Monday, December 26, 2011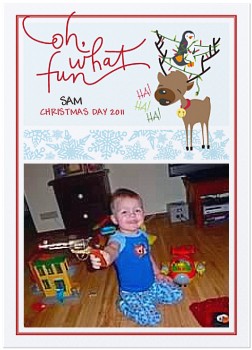 Oh Deer Fun Christmas Card

Friday, July 29, 2011
So this morning, I decided to make some yummy banana muffins since I had some bananas that I had bought at the commissary for
25¢
since they were just starting to get some brown spots, I let them ripen a few more days so that they were almost half brown/half yellow on the outside- those are the best kind to use for making these muffins since they mush up very nicely. They make for a great breakfast, snack, even gift! And they are GREAT for toddlers too!
The recipe you might ask? Why here it is! Ü
What you need:
2½ cups all-purpose flour
½ teaspoon baking soda
¾ cup brown sugar
¼ teaspoon ground cinnamon
2 cups smashed bananas (about 4 to 6 bananas)
½ cup vegetable or canola oil
½ cup

milk


2 large eggs, at room temperature
1/8 teaspoon salt
½ teaspoon vanilla extract
¾ cups chopped walnuts (optional ingredient)

How to Make:
Preheat the oven to 375° F.
Spray a 12-muffin tin with PAM and set aside.


Whisk

the flour, baking soda, brown sugar, and

cinnamon

together in a large bowl & set aside.




Whisk the

banana

, oil, milk,

eggs

, salt, and vanilla in a small mixing bowl.




Make a small well in the center of the dry ingredients bowl.




Pour wet ingredients into the center, then stir until the dry ingredients are moistened but still a little lumpy. *Do not overmix the

batter

or your muffins will come out dense.*




Gently stir in the

nuts

if desired.




Divide the batter evenly into the muffin tin slots.




Put the muffins in the oven and bake for 25 minutes or until golden brown, rotating the pan halfway through the cooking if necessary.




Remove pan from oven and let cool.




Serve warm or at room temperature.





Makes 12-22 muffins, depending on the size of your muffin pan. I, personally, use my Pampered Chef Silicone Floral Cupcake Pan, as seen below, and I can get 20-22 muffins out of this recipe, depending on how high I fill the wells. ENJOY!








 
Thursday, July 28, 2011
So this coming Saturday night, July 30th, 2011, from 5-8 pm at my house at Strunksecken 7, Speicher, I am going to be hosting and consulting on my Germany Grand Opening Pampered Chef Cooking Show! I'm going to have Broccoli-Cheddar Potato bites, and both Southwestern dip and Buffalo Chicken dip with chips already prepared for my guests to taste-test, AND then we will be making Spinach-Artichoke dip with chips and a Chocolate Lava Cake using some wonderful Pampered Chef tools including our Manual Food Processor, Deep Covered Baker, and
many other tools! This will be a great opportunity for my guests to eat, learn new recipes, view all of and get a chance to try out some of our amazing products, as well as purchase any products they may like, and to just have a night to relax and enjoy themselves with friends! Speaking of friends, a little incentive that I do is if my guests bring a friend to the show, then the guest AND their friend will both receive a special gift from me! Ü
I'm really excited about my first Pampered Chef Party here in Germany, and really hope I have many to attend!
So as of a little over a week ago, I decided it was time for Sam to say a permanent goodbye to the ever helpful P-A-C-I. I had already weaned him down from whenever he wanted it, to JUST at naptime and bedtime, so I thought it would be best to knock it down to just bedtime. Oddly enough the first day of no paci at naptime, he didn't even ask for it, of course leaving me to think "Ha! This is gonna be easier than I thought!"-little did I know... Day 2 was NOT that easy, he kept asking "Where paci?" and I kept telling him he didn't need his paci anymore, he was a big boy. He did eventually go to sleep, and from there on out, naptime didn't seem to be as hard. Week 2 was the HARD part... Week 2 started the beginning of NO-PACI, NONE-OF-THE-TIME. My good friend here in Germany, Lesley, had told me how when her daughter had to get rid of her paci that they had tied it to a balloon and let it go, telling Alayna that they were sending her paci to the Angels, and when she turned around there was a special present for her from the Angels, and how everytime she asked for her paci, they reminded her how they sent it to the Angels. I thought that was a sweet story, so on Night 1 of no-paci when Sam asked "where paci?", I told him that "We had to send your paci to Matthew in Heaven because he never got a paci, you be a big boy for Mommy and go nightnight, I love you!", he only asked for it 1 more time, and went to sleep! Night 2 he didn't ask for it at all! Last night, on Night 3 he did ask for it a couple times, but did eventually go to sleep. It seems to be going pretty good, he doesn't ask for it at all at naptime anymore, so just keep us in your prayers that bedtime will continue to be a success! We've come this far, is it too soon to say that I think we may be rid of the paci for good?
Until next time,
Emily